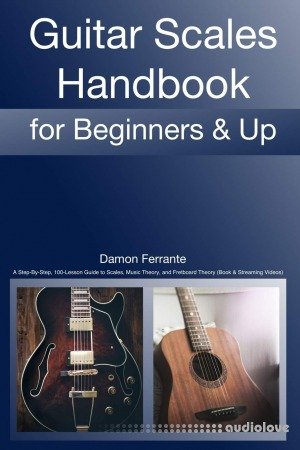 Rolling Stone Magazine recommends Damon Ferrante's guitar and piano books as the #1 Best Guitar and Piano Books for Beginners!
Designed for beginners, this book and streaming video course is all you will need for building technique, mastering music theory, and learning everything you need to know about guitar scales and how to use them in your music!
Guitar instructor and music theory professor Damon Ferrante guides you through step-by-step lessons and streaming videos that will give your playing the speed and fluidity you have always dreamed about.
You will also learn the notes of the fretboard!
This new edition has over 200 lessons, guitar licks, exercises, streaming videos, and scales-over chords concepts.
Used by thousands of professional guitarists, students, and teachers, this book and streaming video course will take your guitar playing to a whole new level!
No Music Reading is Necessary!
Check out the exciting materials covered in the book and streaming videos:
* Alternate & Speed Picking Technique
* Legato Technique
* Music Theory
* How to apply scales to your playing
* Intervals
* Warm-up Exercises
* Technique Building Exercises
* Guitar Licks
* Notes of the Guitar Neck
* Jam Tracks
* Developing Good Practice Habits
* Blues Scales and Modes
* Major Scales and Modes
* Natural Minor Scales
* Harmonic Minor Scales and Modes
* Melodic Minor Scales
* Pentatonic Major Scales
* Whole-Tone Scales
* Exotic Scales
* Octatonic Scales