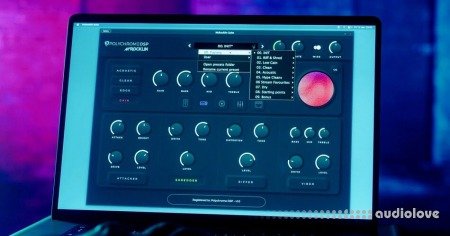 Four uniquely-voiced amps.
ACOUSTIC: Add some sparkle to your tone. Four profiles from bright and airy, to rich and full.
CLEAN: The perfect clean amp. Punchy and smooth, with as much brightness as your music will need.
EDGE: From bold cleans to gritty boutique. When you need an amp that can handle it all, go to the EDGE.
GAIN: This low gain amplifier is a joy to play. Turn on an Overdrive pedal to transform it into a High Gain Shred Machine.
Strap in, let's drive.
ATTACKER: From Ripping tight, to Full Beast Mode. Attacker is the Drive to use when you want a fresh modern sound.
SHREDDER: A modern take on an Overdrive icon. Our unique mod takes this classic drive to a new level.
RIFFER: A vintage modded Distortion pedal that's a banger for riffs.
VIBER: With a broad mid range, this is the perfect drive for adding colour that cuts through a mix. Try stacking with other drives to get the most out of it.
The Equalizer.
4 Band: Each band features a unique voice and Q range. It's never been easier to create powerful curves.
8 Band: Versatile, musical and transparent. Perfect for shaping your tones.
Heatpressor: The multi-algorithm monster.
From punchy compression, to chest thumping boost, top end sizzle and much more. HEATPRESSOR is more than your average compressor.
An Octaver like no other.
Introducing SYNTH OCT A Synthesized octave-down companion.
The sound of a wild night out with your best friends.
15 fully-produced "mix ready" speaker chains.
Each speaker is perfectly matched to its assigned amp, and has been processed through McRocklin's custom channel strips for a produced sound.
Add Resonance, Air, Lo & Hi Cut to further shape your speaker.
Three next-gen reverb algorithms.
SHOP: Perfect for creating smaller spaces around your tones.
SPACE: Based on McRocklin's go to reverb, complete with 3 band shaping tools
DREAM: For beautiful reverb trails supporting your chords. DREAM is perfect for longer ambient sonic scapes.
Stereo, Pong and Grain Delays.
With Ducking, Lo & High Cut and control over the stereo spread. Delay can do everything from subtle to extreme. Turn on the Grains to enter a new world of multi voice textures.
Plus much more besides.
GATE: From gentle to tight whilst never cutting off your transients.
WIDE: Our mid side processor that rips your tones into 3D space. Unlike most stereo/spread tools, no additional latency is added when using WIDE.
CHORUS: The true sound of the 80's. Sweet, juicy and Hyper Stereo.
COMP: Multi parameter master grade compression in one knob. Perfect for adding extra punch to heavy tones, or absolutely smashing those Cleans.
OS: Our amps run Oversampled as standard, double this to 4x with OS.