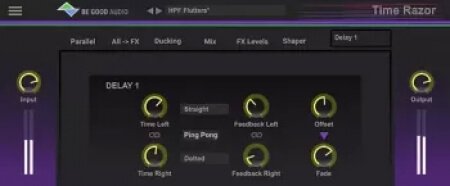 Creative Versatile Dual Delay With Integrated Effects And Modulation
Makes stutter, tape, pitched(includes broken chords), panning, rhythmic, granulated, ducked, filtered, Mid/Side etc. sounds a breeze to create
Main Features
2 delay lines that can be combined in different delay modes: single, ping pong, dual serial and dual parallel.
2 different controllable time transition modes: Repitch and Fade.
Control the level of the delay lines in Parallel or Serial delay mode.
Option to add Chorus, Phaser, Bit Crusher, and Reverb to the feedback path, or to both dry/wet audio.
1 multi-mode filter in the feedback path, or to both dry/wet audio, for further enhancing the sonic character.
Processing in stereo with independent left/right repeat time and feedback for each delay line.
Possibility to sync delay times to the host tempo.
Stereo tools to control spatial width.
Processing in M/S stereo mode.
Shape the delay lines with lowpass, highpass filters in the feedback path. In Parallel mode, each delay line has separate filters, while in Dual Serial mode, both delay lines share the same filters.
Ducking for the delay lines with separate ducking settings in Parallel mode.
Envelope follower for dynamic modulation with multiple dual destinations (select between 32 targets).
2 LFOs with multiple dual destinations and the possibility to sync LFO rates to the host tempo (select between 32 targets).
Modulation sources can modulate each other.
Comes loaded with 140 presets for quickly adding magic to your sound. Easily edit and save presets. More free presets will be added in future updates.
Control audio input and output, changing the sonic harmonics.
Clear Audio button (top-right "Time Razor" text in the UI) for working with massive feedback.
Integrated help-text displayed when hovering over UI elements with the mouse.