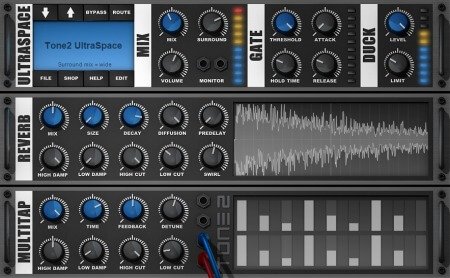 UltraSpace is the complete ambience-modeling solution. It can simulate nearly every kind of room, echo or acoustic environment with top quality sound. UltraSpace is far more than just another reverb - it's a complete compilation of different effect units covering all important aspects of space simulation. Completely new and unique effects can be created by combining these units.
How does it sound?
Our DSP experts have analyzed the esoteric algorithms used by the most popular and expensive hardware units. With many sophisticated experiments, we were able to design an effect suite that unifies the advantages of these legendary devices.
Due to its semi-modular design and flexibility, it covers a huge sonic range. UltraSpace offers a harmonic, crystal-clear, and lush sound which always sits well in the mix. A stripped-down version of the UltraSpace algorithms is also used in our most recent synthesizer 'Icarus'.
Why is it an essential tool?
You get one compact plugin that covers everything related to ambient simulation.
Ultraspace can replace many very expensive hardware units.
Modules can be combined to create new and unique effects, not possible with competing products. Make your tracks stand out from the crowd!
Huge sonic range, and suitable for a large number of applications.
Higher sound quality than competing products. Effect algorithms designed by DSP experts having 20 years of programming experience.
Excellent value for money.
150 inspiring patches created by professionals give you instant access to the right sound to quickly enhance your mixes.
Visual real-time displays and tooltips make it very easy to use.
Low CPU-demand and multi-core CPU support.

A witch says,

UltraSpace is released in 2014.
There are no updates since initial
release. As you know, it means that
it has full of Tone2 protection in the
binary. It even contains malware to
shutdown the PC (which is also happened
to legit users in the history).

Our release is fully unpacked from
MPRESS packer, removed homecalling,
removed ExitWindowsEx call, keygened
(except RSA part of course).

Here is the easiest way to invoke
malware : Download UltraSpace demo.
Install. Open X64 dll in Hex editor.
Search and replace ".MPRESS" to
other text. Load that DLL in your
plugin host. Your Windows shutdowns.