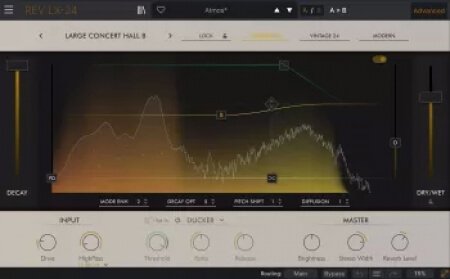 Rev LX-24 is an enhanced virtual replica of a retro ambience box that defined reverb for a generation. Make your mixes bloom with real-feeling space, cave depth atmosphere, and subtly-sparkling texture in seconds with a vintage digital sound that refuses to get old.
Space in a box
The rich reverb you've always known, always loved, and always wanted. Rev LX-24 gives your sound the space, atmosphere, and sparkle you need every time - and you might uncover some inspiring surprises along the way.
Choose your workflow
Classic gear, new tricks. Rev LX-24 may have been emulated down to the finest detail of the original's digital architecture, but we added some useful features in the Advanced panel that make it easier to use, more flexible, and better suited to your DAW production workflow.
Try it out
Interact with some of Rev LX-24's essential controls to hear how their interplay can create detailed, timeless, and inspiring reverb in seconds.
The eternal reverb
Reverb comes in many forms. The bouncy rattling quality of a spring tank; the crystalline texture of a shimmer reverb; but sometimes you just want purity, warmth, and ultra-smooth decay. That's where Rev LX-24 comes in.
A closer look
Between the main panel and the advanced panel, you'll find every control you need to tailor Rev LX-24's spacious sound to your creative needs, from the conventional to the unheard.
Preset library
Bread-and-butter reverb presets perfectly tailored to vocals, drums, synths, and more; specially-designed settings offering abstract atmosphere and ever-evolving spaces; Rev LX-24 comes loaded with 100 presets for classic & essential reverb tones in a few clicks.
At the dawn of digital
Historically, reverb was a very physical thing. Boxes full of springs, metal plates suspended in a frame, sound amplified into a room and re-recorded to capture the space. Then, in the 1970s, everything changed.