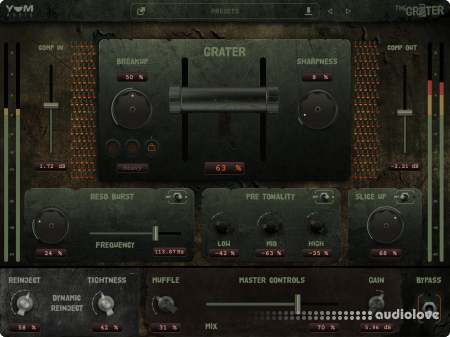 The Grater is a powerful over-the-top compressor that will be your key to extreme audio punch and destruction.
As the epitome of over-the-top compression, The Grater will break your sound with raw power and let you sculpt it like never before! It has a unique set of controls, with which you can take your audio to the next level by adding punch and power or by creatively destroying and mangling your sound.
We wanted it to be super easy for you to jump right in and take advantage of the full power of The Grater. So it comes with a whooping 136 presets by some amazing artists such as Mick Gordon, Eddie Grey, Konrad OldMoney, Tushar Apte and Christal Jerez.
Key Features
Grater Control lever that adds extreme compression, punch and distortion.
Sharpness Control to tune Grater response.
Breakup Control which adds unique errors to the compression.
Three Breakup modes: Smooth, Neutral, Heavy.
Compressor Input and Output gain for gain staging.
Dynamic Reinject: allows to bring back the dynamic range lost during the compression.
Three additional effect module:
Reso Burst to create resonant filter bumps and self resonating tones.
Pre Tonality to shape the tonal balance of your audio before it goes through the compressor.
Slice Up module for additional clipping stage.
Master Section for final polishing.
Mixes well in any audio production setting, from music mixing to sound design.