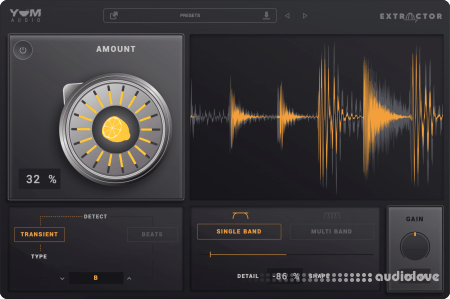 Extractor offers a new, innovative and fully automatable way to thin out any kind of loop.
It excels on percussive and full range beats but can also be a great trick to thin out synth plucks or arpeggios.
Extractors purpose is in its name - to extract any sound from loops you want.
You have a great looping recording of a beat, but you just want to grab the kick drum out of it? Simply turn up extract in sync mode. Or you have an awesome sounding, but too sustained and busy percussion section? Simply turn up Extract in transient mode.
We spent a lot of time on getting all controls instantly production ready for you - the result is an instant classic in your production toolset - and fully automatable too.
Key Features:
Extraction control allowing you to extract sounds and tighten any loop
Accurate transient detection mode with sensitivity control
Transient mode to extract individual hits or even denoise loops
Time Sync "Beats" mode with 1/32,1/16,1/8,1/4,1/2,1/1 resolutions
Single Band mode for clear and accurate full band extraction
Multi Band mode for intelligent frequency-dependent extraction
High resolution visualizer to see waveform and extracted material layered together
All controls tuned by ear for instant and musical results
Yummy lemon-squeeze animation to squeeze any sound to your liking