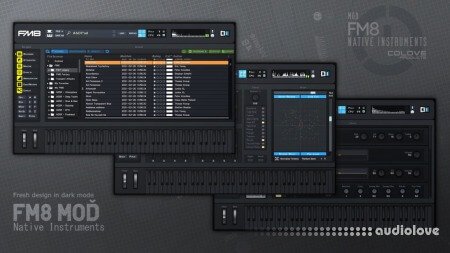 Hi there! We present you a modification for legendary synth plugin FM8 from Native Instruments. Our team has completely revamped original light GUI and added a new design in dark mode (to before that we did Razor style for Massive 1). It's update v1.2 to the first public release v1.0.
Many new things have been added! New buttons, fonts, displays to spectral / presets control, etc. Everything that we could rework, draw, restyled – team COLOVE Products Soft did it, so but have a issues what can't fixed now. Please look on "CHANGES" and "KNOWN ISSUES" list. Also want to say from our team next..
COLOVE do not change anything in code or officially build or protection with license. Together we make only amateur design updates for fans of this plugin what develop largest and cool Native Instruments. The modification is available free of charge for buyers of our audio products in the amount from $30. We do not distribute plugin, not sale or resale… You must have an official license on plugin from Native Instruments (or buy plugin via NI Store). Enjoy!