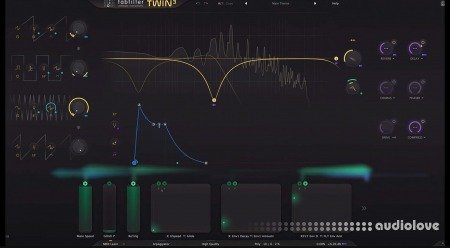 FabFilter Twin 3 the latest version of our award-winning virtual analog synthesizer. Almost two decades after FabFilter's plug-in debut with the FabFilter One synthesizer, Twin 3 expands and improves on its predecessor in every area, including a complete redesign of the GUI and workflow, more and better oscillators and filters, a radically powered-up modulation system, an all-new FX section and much more. Sonically versatile, supremely intuitive and spectacularly 'analog', Twin 3 is a dream instrument for creating synth sounds of all kinds, from basses, leads and pads to plucks, drums, effects and beyond.
Vintage phatness, out of the box
Twin 3 is very easy to program. With its four vintage-sounding oscillators, versatile filters and built-in, high quality effects section, it's a breeze to create unique sounds. Using the new preset browser, you can type to search, tag presets and mark them as favorite, making it easy to find the sound you need.
Easy drag-and-drop modulation
With all the XLFOs, EGs, XY controllers, envelope followers and MIDI sources you will ever need, Twin 3 offers practically unlimited modulation possibilities. Even the built-in effects can all be modulated! Creating new modulation connections could not be easier: just drag and drop.
FabFilter goodies
Finally, you get all the usual FabFilter goodies: perfectly tuned controls, MIDI Learn, Smart Parameter Interpolation for smooth parameter transitions, extensive help with interactive help hints, NEON and SSE optimization, and much more.
Key features
IMPROVED - Fully redesigned, highly simplified interface, with an easier workflow, including a new design of modulation sources and floating modulation slot panel
IMPROVED - Improved the oscillator and filter sound quality, with built-in, analog-modelled drift. Added a fourth oscillator
NEW - Introduced large Filter Freq/Peak offset knobs, which adjust all filters at once and can be modulated as well
NEW - Added high quality effects section with reverb, delay, chorus, phaser/flanger, drive and compression
IMPROVED - Introducing a full-featured preset browser, with support for tags, favorites and easy searching and filtering
NEW - Added arpeggiator with host tempo sync, groove/legato controls and transpose, note order and latch options
IMPROVED - Resizable interface, full screen mode and customizable scaling
Endless modulation options, with all the 16-step XLFOs, XY controllers, envelope generators, envelope followers and MIDI sources you will ever need
IMPROVED - Four versatile filters with filter panning and adjustable slope and shape (low/high/band pass, bell, low/high shelf or notch)
IMPROVED - Easy drag-and-drop modulation with 100-slot modulation matrix
IMPROVED - Ring modulation for oscillator 1+2 and 3+4
IMPROVED - Carefully designed and curated factory presets, plus support for earlier Twin presets
IMPROVED - New slope settings for the envelope generators open up a much wider range of possible shapes
IMPROVED - 64-voice polyphony and unison
GPU-powered graphics acceleration
NEW - High Quality option, enabling internal oversampling for the best results
NEW - Introduced Source Level (-200% .. 200%) control for XLFOs, EGs, EFs and MIDI Sources, which scales the output of the source. Of course, this can also be modulated
Polyphonic portamento
NEW - Live modulation visualization for targets and sources
Extensive help file with interactive help hints
Undo, redo and A/B switch features
Available in VST, VST3, Audio Units, AAX Native formats (all both 64-bit and 32-bit, Intel and Apple Silicon)