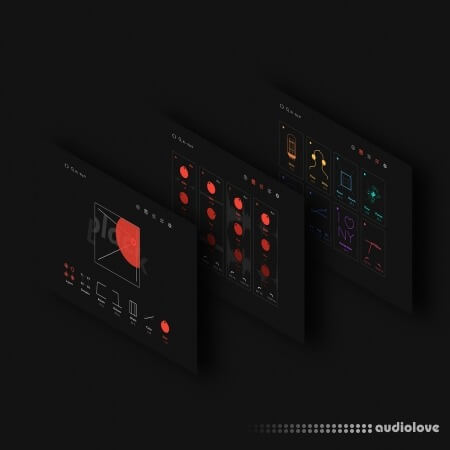 BLACK - All in One VST For Trap
Trap? Lo-fi? Hip-Hop? Drill?
Maybe solid sounding bass sounds, unusual Leads, or Hybrid Keys?
If you want the best all-in-one plugin in existence, look no further.
You came to the right place. Let's dive right in... BLACK!
A pretty spicy Multi-Layer Virtual Instrument, Designed specifically for trap, hip-hop, and R&B genres, Sound like a trap artist in no time!
"Loud, in-your-face"
Playing with BLACK is a lot of fun because of the multi-layer architecture. Manipulate 4 layers independently of each other or search for a new Blended patch with a powerful blend control we Like to call the "XY" Circle. 
This allows you to Create advanced & impressive patches with the limitless XY Circle, just Move the XY Circle and get amazed by the results.
"Full Control"
Bypass Layers, Change samples manually, Control the Attack & release, Stereo Widener, and Colorize Your Layered Patches... all in one place!
Transpose your MiDi input, Change the up/Down of Pitch Bend, and Control the speed of the Tremolo effect that is assigned to Modwheel, Glide Time, and Velocity Sensitivity of your melodies, all is here!
"Mixer Page"
The Mixer Page enables you to mix signals from different Layers.
Gain, Pan, Tune, Hp / Lp Filters, Reverse... also you can see The audio waveforms playing in the background!
"High-Quality Effects"
Make your next hit using sounds you can only find in BLACK. Whether it's complementary or complex, soothing or strange, a full suite of studio-quality effects is to to help you craft your perfect sound.
Drive / Delay / Reverb / Paneer / BitCrusher / Equalizer / NY Compressor / Hp & Lp Filters gives you the flexibility to create unique-sounding Trap Patches.
System Requirements:
"Windows" 7, 8, 10 or above
4 Gb ram / 2 GB free space on the system drive
"Mac" OS X 10.9.5 Mavericks or above
4 Gb ram / 2 GB free space on the system drive
macOS Catalina / Bigsur Ready ( Compatible With M1 Silicon Computers Under Rosetta 2 )
Works In Most Major DAWS Excluding Pro Tools. ( No AAX )