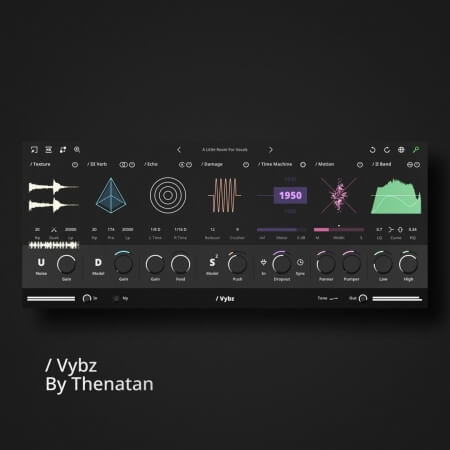 Vybz - Lofi Multi FX Plugin
Bring back The Nostalgic Vibes of Old/retro Days, and Take your listener To when all the 'faults' were a part Of the Songs...
whether you're heating up Breaks, crafting Broken Beats, or looking to add more musical material to Your Beats, we've got the tool that'll help you do it.
We are proud to introduce you to "Vybz"
A Swiss Army Knife that includes everything about a modern or classic wet tone and it looks great while doing it.
With Vybz ultimate all-purpose Effect modules, You can Colorize your mixes And Crank it back a few decades when snaps, crackles, and pops were a necessary part of the experience.
" That's not all !!! "
You can Layer Textures onto your existing audio With the Texture Unit.
III Verb, Designed for getting a very fast, powerful, and high-quality reverb sound. + Convolution Reverb.
Get short Slap, Or Infinity Feedbacks With The Echo Unit, a Tempo Synced Delay Effect, With Color Control & Chorus.
Distort your signals Using inBuilt analog-style distortions, Or Shape your sounds with Vybz modern Waveshaper.
With Time Machine Select the record's year of your Beat, from 1930 up until NOW, Or Feel the lo-fi magic With VHS & Drop-out Effects.
Stereo Enhancement, Volume modulation / Side Chain, Trance Gate, Tremolo / Panner All available on Motion Module.
II Band, Equalizer designed to correct Or balance issues in the most important frequencies, the low and high end + Dynamic EQ.
And Plenty of presets to help you Get to work Right Away.
Big Thanks to Team R2R for their help!