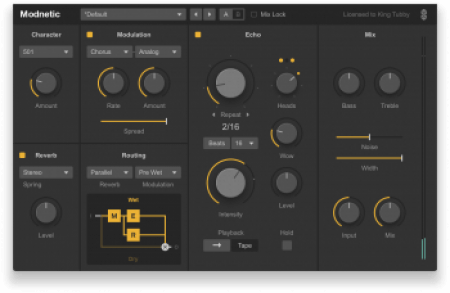 Modnetic offers comprehensive emulation of classic analog tape delay hardware from the 1970's. In fact Modnetic gives you four powerful effects in one: delay, reverb, modulation and tone. No mere slavish analog emulation, Modnetic also has a few digital twists...
Key Features:
- An Echo section with three combinable virtual tape heads, ​ two different reverse delay effects (impossible using real tape) and a hold mode which emulates repeatedly reading and writing the same audio to tape.
- A Reverb​ section with 35 carefully crafted impulse responses.
- A Modulation section featuring chorus, ​ flanger and phaser effects, including analog models inspired by BBDs (Bucket Brigade Devices), clean digital effects and special sonically 'broken' flavours.
- Four vintage machine 'characters​' that affect the tonal and sonic qualities of the delay and modulation effects, with a character dial that controls the strength of the selected machine.
- Comprehensive routing options for blending the three effects in unique and creative ways.