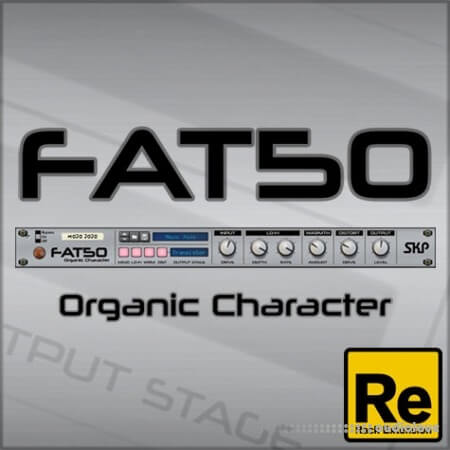 Introducing FAT50 Organic Character by SKP Sound Design. FAT50 quickly and easily adds analog warmth or digital character to your sounds and mixes. Add organic mojo to flat digital synths, fatten up thin sounding guitar tracks or even emulate classic studio samplers. FAT50 is the ultimate go-to "sound good" box in an elegant and easy to use 1U Rack Extension.
Features:
- Add FAT Character
- Non-Linear Mojo
- Analog Warmth & Digital Crunch
The FAT50 Rack Extension consists of 4 distinct types of effects processors. Use them alone for basic bit-crushing, subtle warming and distortion. Or merge them together to bring organic life to flat digital beats, synths, guitars and even entire mixdowns.
- Enable Mojo mode to add analog style nonlinearities to the input signal.
- Simulate classic studio samplers with the Lo-Fi circuit.
- Add analog heft and color using the Warmth parameter.
- Dirty up your source material with the built-in Distortion control.
- Switch between Transistor or Valve modes at the output stage.
- Mix and match for a fantastic pseudo-organic sound that is rich with character.