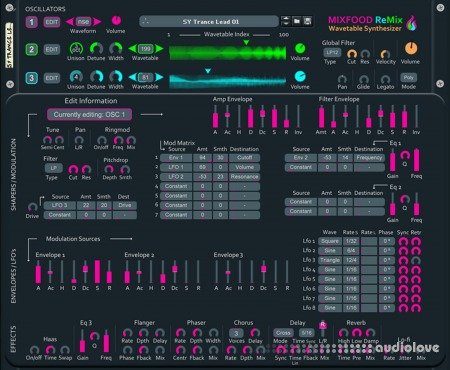 Mixfood ReMix is a wavetable and sample-based synthesizer (for Reason 9.2 and up).
Equipped with 2 oscillators containing 250 carefully created, unique high quality wavetables and 1 oscillator containing 50 stereo, perfectly looped high quality waveforms! At the heart of Mixfood ReMix is a mod matrix connecting 8 LFO's and 3 envelopes per oscillator to various destinations. In total there are 24 LFO's and 15 envelopes that can be used to ReMix the wavetables and waveforms into beautiful and powerfull synth sounds, rich and endless evolving pads, deep base sounds and modern plucks.
Features:
- 2x250 Wavetables, 50 Stereo Waveforms, Mix & Match
- Index Faders, Big Wavetable Images, 500+ Patches
- 24 LFO's, 15 Envelopes, Mod Matrixes, Unison, FX
Oscillators
Osc 1 contains 50 rich sounding, stereo, perfectly looped waveforms. Waveforms include rich organs, wide strings, choirs, deep subs and noise.
Osc 2 & 3 contain 250 carefully crafted wavetables with perfect morphing capabilities. Both wavetable oscillators have a Index Slider to scroll through the 100 waveforms per wavetable (more than 40.000 waveforms at your fingertips to mix and match).
Osc 2 & 3 have their own independent unison switch (2 or 4 waveforms and a 5 waveform 3 octave setting), detuning and stereo spread.
Mod Matrix
The mod matrix at the heart of Mixfood ReMix connects 14 sources to 10 different destinations (with the help of sub mod matrixes dedicated to EQ's and drive).
Sources are: aftertouch, modwheel, velocity, constant, 3 envelopes and 8 LFO's. Destinations include tuning, panning, volume, wavetable index, filter cutoff, filter resonance, EQ gain, EQ width, EQ frequency and drive amount. Each oscillator has its own set of mod matrixes.
Sound Shapers
On top of the dedicated mod matrixes per oscillator each oscillator has a dedicated amp and filter envelope, tuning correction, panning, filter (HP/LP), pitchdrop, ringmod, drive and 2 EQ's.
Effects
Each oscillator also has its own dedicated effects bank including Haas effect, third EQ, flanger, phaser, chorus, delay, reverb and lo-fi effect.
Global
Each oscillator is fully equiped with a lot of sound shaping tools as described. On top of that is a set of global sound shaping tools like a global filter (LP12, LP24, LP+, BP6, HP12, HP+), global panning, glide and velocity switches and a poly/mono/legato switch.
Continued GUI on the Back
The backside is the place to finetune your wavetable setup with the help of 2 XL wavetable images with plus size index sliders.
Also the famous Mixfood dedicated audio outputs per oscillators are present. A separate audio output for the dry and wet signal of each oscillator. With these audio outputs endless creative combinations can be made by ReMixing the Mixfood ReMix sounds with your favourite Rack Extensions!
Patches
To finish it off we created over 500 patches for you to start with!
Patches include rich pads, cool plucks, deep basses and hot synths.
Try Mixfood ReMix to see its beatiful design, test its workflow and hear its capabilities with your own ears.