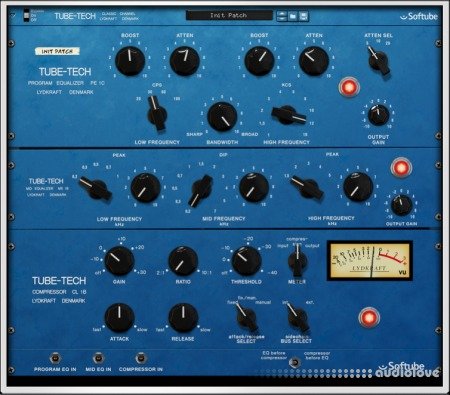 Tube-Tech Classic Channel by Softube is not your everyday channel strip, with a surgical equalizer and fast bus compressor. The Classic Channel is a vintage style and warm sounding channel strip which consists of the most famous and classic Tube-Tech gear: The "Pultec" equalizer PE 1C, the mid-range equalizer ME 1B and the tube driven opto compressor CL 1B.
Features:
- The most famous and classic Tube-Tech gear
Product Description:
With the two Pultec-style equalizers, you can shape the sound of a track, a bus or a mix within seconds. The highs sound smooth and gentle, the mid-range airy and focused, and the lows full and fat, almost at any setting. Add the final touch with the CL 1B compressor, versatile but with a distinct personality. Forget about precise and minute tweaks with 0.1 dB read-outs. The Classic Channel is about the good sound, and the way to get there is easy. Just turn the knobs and you'll see.
Combining the three units in a single plug-in makes adjustments easier, as you will often find that the compressor affects the equalizers and vice versa. By default, the sound passes the equalizers before the compressor, but you can easily put the compressor first with a single switch.
In Short
- Combines Tube-Tech CL 1B Compressor, Tube-Tech ME 1B Mid-Range Equalizer and Tube-Tech PE 1C "Pultec" Equalizer into one single plugin
- Individual bypass for each of the three units saves CPU
- Place the equalizers first and the compressor last or vice versa
- Classic Tube-Tech sound, created together with the designers at Tube-Tech
- Each and every component carefully modeled
- Modeled output transformer
- Extremely analog behavior of frequencies, phase, distortion, attack, release, etc
- Two EQs and one Compressor. Easy user interface with four panels.