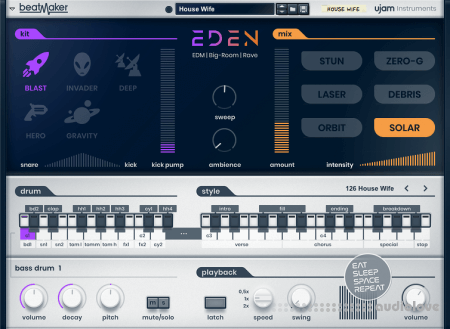 EDM, Big-Room & Rave
Beatmaker EDEN is a dance music and EDM specialist. For any genre from small sweaty Berlin clubs to ginormous global festivals, EDEN provides the driving beats that keep the party going.
Features:
- Genre-authentic sounds: EDM, Big-Room & Rave
- Ready to go: Kits, Patterns and Mix Presets
- Kick Pump: pumping side-chain compression
Lightyears Ahead
EDEN combines the latest in drum rhythms and sound design for contemporary dance music and EDM. Savvy to the variations of classic four-to-the-floor stompers, EDEN is your tool for building the right foundation for the next big summer anthem. Its beats are just waiting to carry your passionate synthesizer pad cascades and forceful off-beat basslines. Set your phasers to stun and get ready rave all night long.
What You Get
- Powerful mixing console with 6 smart-mix presets
- Custom FX algorithms: Kick Pump and Ambience
- 25 styles, 575 patterns (intro, verse, chorus, fill, ending)
- 5 drum kits