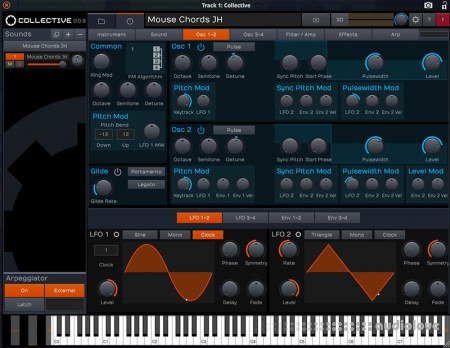 A sound library for Tracktion Software Collective sampler / synthesizer. This library contains many different sounds like Ac Guitar, E-Guitar, Accordion, Percussion, Cello, Buzouki, Choir, Horns, E-Bass, El Piano, E-Organ, Grand Piano, Orchestra Hits, Sax, Trumpet, Violin etc.
In "Drums and Percussion" section you will find: Assorted Percussion, Drum Kits, Hihat Kits and Metal Percussion.
Collective is a powerful sampler and synthesizer capable of generating a wide variety of instrument sounds. Developed to accompany the new music composition tools, Collective allows you to immediately start creating diverse musical styles. Quickly select from over 600 presets and deep dive to surgically craft your unique sound. Pull from the included sample library or load your own, combine with synthesis or cherish the supreme quality of traditional samples. One instrument to rule them all.
Collective Sample Synthesizer
Extensive sound library with over 600 sounds
Up to 256 voices (depends on CPU speed)
More than 4000 Sound layers per Instrument (typically between 1 and 12)
Macro controls for quick and easy instrument editing
Controller support for pitch bend, modulation wheel, monophonic and polyphonic aftertouch, sustain and sostenuto pedal, expression pedal
Full host parameter automation