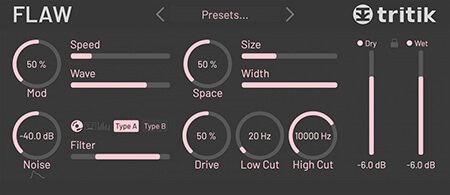 FLAW is an effect plugin that celebrates imperfections
Give a lo-fi vibe to a whole mix or to a single instrument.
Create strong alterations and fully reshape audio textures.
Inject subtle instabilities and make your sound more alive.
Key Features
Modulation Section – with waveform and rate controls.
Lo-fi Reverb – full of character.
Noise Section – including tape, vinyl, and cracklings sounds.
Drive Control – for some extra warmth.
2 HP and LP filters – analog-modeled.
Modern User Interface – fully resizable and high-resolution.