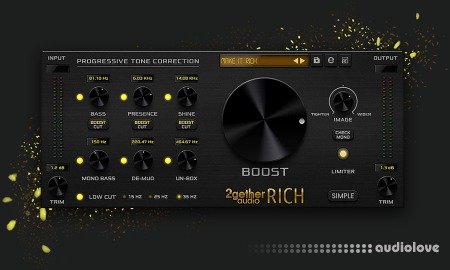 You don't need to spend a lot of money on high quality mastering solutions. 2getheraudio's RICH Audio Mastering tool gets you there without breaking the bank. RICH uses a proprietary PTC (progressive tone correction) algorithm alongside a stereo image processor to give your track or full mix the extra shine it deserves. Free trial available.
Exactly what you want a mastering plugin to do… and not do.
Seize control of your dynamic range with a smart compressor, add warmth with an analog modelled saturation circuit, and reach commercial loudness. RICH does all this and more.
Using a proprietary Progressive Tone Correction circuit, RICH carefully shapes the sonic spectrum of your track and fixes common mix problems.
RICH's built in stereo imaging processor lets you make immediate adjustments to the stereo image.
The large Boost knob is where the magic happens, adding compression, saturation and applying tonal shaping of the PTC section, all in a single knob.