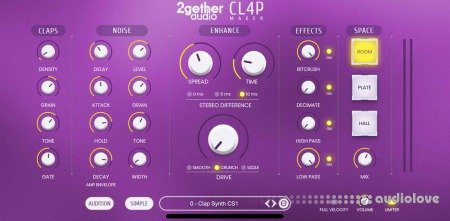 The perfect handclaps for your music
Handclapping goes as far back as humanity itself. So it's not surprising that today's hottest music keeps the tradition going. Introducing CL4P Maker, a virtual instrument dedicated to giving your music the perfect handclaps. Where will you put your hands 2gether?
The Sounds
Yes! CL4P Maker has your traditional handclap sounds well covered, but it delivers a whole lot more than that. 24 easy to use controls let you dial in the perfect clap, from tight to ambient, realistic to electronic, single claps to crowd claps, and just about anything in between. To get you started we've included 100 handclap presets with a quick select audition button.
We've done the hard part so you can get creative
Like all 2getheraudio products, we want you in the business of making music, not struggling with your plugins. That's why CL4P Maker includes a Simple Edit screen for quickly auditioning and tweaking your clap sounds while your groove is playing. Then if you need to dig a little deeper, one button takes you to Expert Edit for fine tune control.