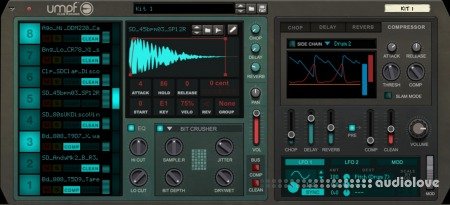 The Umpf Club Drums Rack Extension is a next-level dance music beat creation device that delivers everything you need to make banging electronic beats in Reason. Easily create pumping, club-ready drum tracks-ready to drop in any song. Umpf Club Drums comes loaded with custom patches made by producers Cari Lekebusch, Shadow Child (Dave Spoon) and more.
Umpf Club Drums is bursting at the seams with cutting-edge sounds and techniques for the modern dance floor-including over 750 samples, powerful signal processing, and 100 drum kit presets tailor-made for four-to-the-floor house and techno. Load your own samples and create custom sounds with the intuitive dynamic waveform display. Use the onboard mixer and effects to create the perfect drum mix. Transform your beats using Umpf's powerful Modulation Matrix-packed with filters, LFOs and advanced signal processors. Take Umpf to a whole new level by combining it with the complimentary Drum Sequencer-a 16-step sequencer with velocity, repeat and probability controls.
Umpf is the perfect tool for effortlessly creating the fattest, most professional-sounding beats in electronic music.
Features
- Choose from 750 cutting-edge drum sounds or load your own samples
- Transform beats with LFOs, filters and more using the Modulation Matrix
- Boost your sound using powerful parallel and side-chain processing
- Use the onboard mixer and effects to create the perfect drum mix
- Create custom envelopes using the dynamic waveform display
- Reason's Drum Sequencer included free for endless possibilities (Drum Sequencer is not included in subscriptions, Rent-To-Own or Rigs)
- Includes 100 Drum Sequencer patches
You need R2R's Reason release and TEAM R2R Reason Rack Extension Cache Builder
Copy the RackExtension folder to
"%APPDATA%Propellerhead SoftwareRackExtensions"
Copy *.R2RRECACHE file to
"%APPDATA%Propellerhead SoftwareR2RRECACHE"
After you add new RackExtension(s), you need to rebuild the RE cache:
- Just run "RECacheBuilder.exe" from TEAM R2R Reason Rack Extension Cache Builder
- Cache file will be built.
- Done!