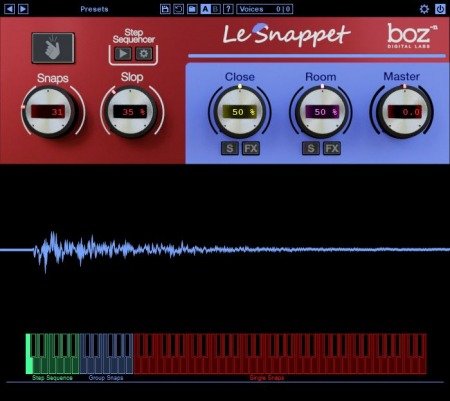 Le Snappet gives you realistic snap tracks of any group size from a single person to an entire crowd.
Realistic Snaps
You determine the group size. You determine how sloppy they are. You control the microphone mix. We sampled multiple snappers at multiple layers and a bunch of round robins, from 3 different mic perspectives. The result is natural sounding snaps no matter how large the group.
Built in Step Sequencer
Control with MIDI or the built in step sequencer that lets you automate between 12 user created patterns.
Compatibility:
Windows XP or higher, both 32-Bit (Yeah, right) and 64-Bit
JustFun598 Note:
(v1.0.3)
Looks like Boz Digital Labs have fucked up while exporting 32-Bit versions of these plugins, seems like they don`t work.
But I patched them anyways, maybe some of you might be lucky and they`ll work for you.
64-Bit work properly!