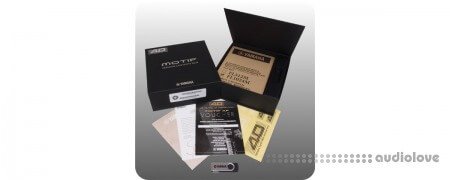 THE NEW 40TH ANNIVERSARY PREMIUM CONTENTS PACK CONTAINS:
There are 3 videos that explain the contents of the Premium Collection and
then 8 folders of data (A-H).
1. 40th Anniversary Content Management Video
Featuring "Bad Mister" himself, Phil Clendeninn takes you through the contents on the
drive and offers suggestions on how best to audition, select, load and manage the data
for your custom Motif XF flash memory.
2. Chick's Mark V Video
This is a personal message from Chick Corea talking about the amazing Mark 5 electric
piano library that he helped develop and how he used it on the Return To Forever tour.
Make sure you first install the 512MB Flash Board, read the library installation manual and
then load the ALL file contained in the A. Data folder into your Motif XF.
3. Karma Motif Video
Discover how the KARMA real time music algorithms can enhance your Motif XF. This
detailed an in-depth 13 minute video gives you an in depth look at the power of the very
latest KARMA technology from interactive music software guru, Stephen Kay. KARMA can
truly take you Motif XF to another level of creativity. The pack includes a card for a 40%
discount on KARMA Motif!
Data Folder A- Chick Corea Mark V Library This is the sample of Chicks personal Mark V
that he uses on tour in his Motif XF8.
Data Folder B – CS80 Library
The library produced by Prof. Dr. Peter Jung (Institut für Kommunikationstechnik,
Voerde, Germany) is based on recordings that were created from the Yamaha
CS-80 with the serial number 1037 between February and November 2012. There
is also 2 bonus banks of voices that use both the CS80 waves and the new
distortions and reverbs in OS version 1.5
Data Folder C - Yamaha Vintage Synthesizer Collection by Sonic Reality
505.36 MB of 22 vintage waveforms from classic Yamaha synthesizers of the past, with 64
voices for those waves. A special 40th Anniversary file. Enjoy!
Data Folder D – Additional Voice Libraries to load into the on board 128 MB RAMData Folder E - XF Additional Videos
See how the Motif XF interfaces with the world of the iPad®, watch Chick Corea talk
about how he uses his XF and see more videos on the included VST.
Data Folder F – "Yamaha Ultimate Piano Collection"
This library contains the piano samples that are installed on the CP1, Yamaha's current
flagship stage piano, plus the piano samples and voices from all the previous generationsof Motifs.
Data Folder G – Twisted Tools Selections
This TOTALLY TWISTED collection is a sample of current product made by Twisted Tools
programmed for the Motif XF.
Data Folder H - Instant Score Selections
User Bank two contains 16 voices from 5 of the volumes from Arne Schulze at
Soundwaves. All six volumes are available from the store at Yamaha Musicsoft.