Presonus Beauty And The East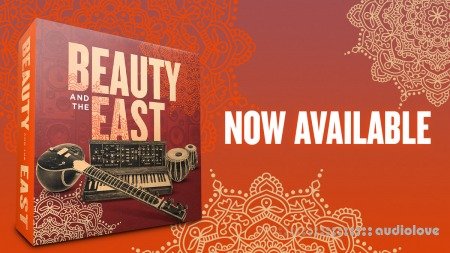 Beauty and the East is all about bringing seemingly disparate cultures together through sound. Bionic, vintage drum machine beats are backed up by organic, really vintage far-east wooden percussion. You'll hear classic Moog-like monophonic synth strings harmonizing with the highly polyphonic 21-string sitar. Beauty and the East is what it sounds like if you were to just drop a whole borough of Jaipur into the heart of Detroit, or if you put the Higashiyama District somewhere on the northside of downtown Atlanta. Your feet will want to strut; your head will want to get lost in faraway lands... and your hips? Well, those are none of our business.
You get ten multi-track, key-labeled, royalty-free construction kits to inspire you, so dice 'em up and rearrange them into your own cross-cultural couplings. You also get 58 presets for Sample One and five one-shot kits for Impact XT, so you can sequence your own worldly beats and melodies from the ground up.
Compatible with Studio One® Prime, Artist, and Professional (versions 3.5.5 and higher)
10 construction kits (Audioloop format)
99 x 24-bit Audioloops
5 x Impact XT / ATOM kits (Studio One 4 Artist or higher)​
58 x Sample One XT presets (one sample each)
Size ≈ 593 MB (uncompressed), 271 MB (compressed)