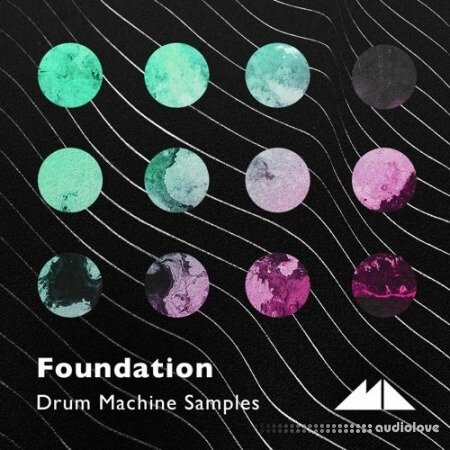 A building will not stand without rock-steady foundations - so it is with music, where only the snappiest, most heavyweight drum sounds will lay the proper groundwork from which your track can spring. Good news - this is precisely what you'll find in our latest release, the thumping Foundation - Drum Machine Samples!
For drums that can truly punch their way through any mix, producers continually turn to those rare, classic drum machines of the past - you can forget about the inflated price though because we've done the legwork for you, crafting this treasure trove of 433 genuine, vintage drum machine sounds dripping with retro grit and character.
From the vibrant acoustic drum sampling of the Alesis HR16 and ultra-modern thump of the DeepMind 12 analog synth, to two undoubted gems from the 80s and 90s heyday of hardware, the LinnDrum and MPC2000, this drum library comes to you bursting with the iconic, unmistakable sound of these celebrated devices.
Dive into this lovingly sampled, royalty-free retro selection and you'll find 3 folders:
Raw Drums, presenting you with a collection of crisp, clean samples pristinely captured from their vintage sources; Processed Drums, beefing up choice cuts from the kicks, snares, hats and claps into deep drum detonations; and Layered Drums, gluing together 3 or 4 samples to deliver composite drum power.
Above all, take this pack home and you'll find drum machine samples that punch with the force of a title-winning boxer, from kick samples that boom like a canon in a cave, snares that explode like a hammer on an anvil, hi hats that slice like swords swinging in the air and so much more.
A solid set of 5 channel strip settings, offering you easily tweakable options for pumping up, twisting and otherwise shaping your drum sound, completes the pack.
Lay the perfect cornerstone of your next music production - get your tools in order and download Foundation - Drum Machine Samples today!
Contents
88 Kick Samples
84 Snare Samples
65 Hi Hat Samples (Open & Closed)
30 Clap Samples
43 Tom Samples
16 Cymbal Samples (Crashes & Rides)
10 Rim Samples
23 Shaker Samples (Maracas, Tambourine & Cabasa)
74 Percussion Samples (Clave, Cowbell, Triangle, Conga & Analog Synth Perc)
433 Drum Samples