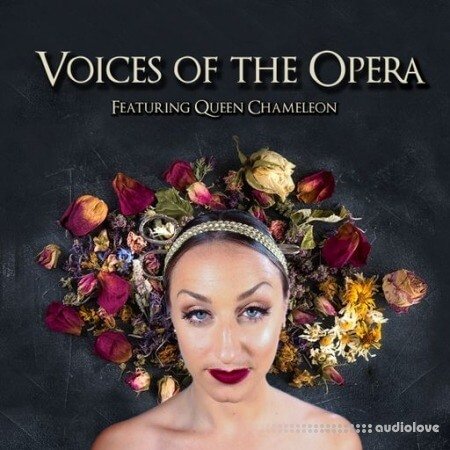 From the soaring sounds of Puccini, to the vivid colours and drama of Verdi, Vivaldi, and Beethoven, with famous operas like Carmen Bizet and Lakmé's "Dôme ... pais"; here is a pristine collection of vocal interpretations, to Queen Chameleons favorite arias & classical pieces of all time. This is "VOICES OF OPERA". Queen Chameleon (Maria Di Cara) studied the Vocal Mastery Art of 'Bel Canto-Lírico' in Florence Italy, at the Cherubini Conservatorio and Istituto Europeo.
QC studied classical vocal training and opera under 'Monica Benvenuti vocal instructor to Andrea Bocelli, as well as Rita Harvey (Christine Dae) on Broadways 'Phantom of the Opera'. In this Vocal Pack, Queen Chameleon sings in Italian, Latin, Sicilian and French, using what she calls 'Fiore Arco' vocal flaring; to pair with her original lyrics and melodies in addition to well known classics. Some vocals are leads, while others are choral styles with harmonic layering, natural room sounding effects, short phrases, verses, choruses, and even full songs. These Samples are perfect for classic cinema, Italian themed films, time periods around the holy wars and fantasy films from the medieval time periods and beyond.
These vocals works are perpetual however, and can be used in both antique and contemporary commercial settings. "Voices Of The Opera" contains diverse emotional content of drama, sentiment, intensity, sadness, and merriment to accommodate any required themes for of all your projects. Royalty Free, and for creators wanting traditional background music to equip their work with a timeless overtone; the wildly diverse Queen Chameleon can sing in 14 languages; Italian being one of which she is fluent in.
There are ZERO Vocal Samples in this pack containing compression, tuning, equalization, or sound editing/manipulation. Samples are fully raw acapella untouched original recordings, engineered and produced by Queen Chameleon herself. Vocals are crafted as such, that the producers may have free range and custom styling options in the mixing room to their full creative control. Vocal Samples are WAV files 24-bit/48kHz. The BPM and key signature are listed below along with the style of the sample. Compatible with fast speed and easy import to any DAW such as Pro Tools, Logic, Ableton, Cubase etc. Enjoy, and please send feedback to queenchameleon.com/contact!