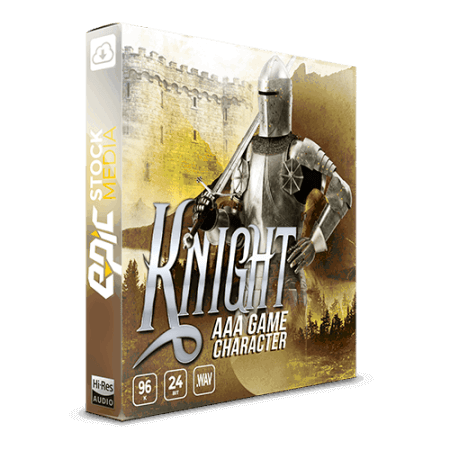 'AAA Game Character - Knight' lets you command in-game character audio excellence with Epic Stock Media's newest voice over sound library. This fantasy character voice sound pack is jam-packed with over 480 custom lines, battle cries, fight vocals, vocalisations and everything you need to create immersive character dialogue, rich cinematic game scenes and believable interactive experiences.
'AAA Game Character: Knight' showcases dynamic and scripted fantasy male voice samples, inspired by hit games like World of Warcraft. Created to cater to top tier AAA game studios and designers, 'AAA Game Character: Knight' ensures that every game will have a compelling fantasy hero.
This voice sample pack has a recognisable sound that your audience will surely love. Now you can protect your king and your king's realms alike and serve justice to the evil abominations that lay waste to his lands, 'vocally speaking', that is. 'AAA Game Character: Knight' is a heroic, justice-serving humanoid game voiceover soundbank of immersive dialogue and game audio, available for download now.
Product Specifications:
Format: (.WAVs)
022 x Battle Cries And Sayings
004 x Breathing Paces - Quick/Slow/Quiet/Fast
012 x Coughing Files Like Muffled/Wheezy/Hacking/Deep
012 x Blubbering Cries/Long/Short/Wailing/Sniffling And Wxplosive
160 x Interactive Scripted Dialogue Lines Like Evil Does Not Stand A Chance And For The King
050 x Fighting Vocals - Groans/Grunt/Swing/Pain/Throw/Roar And More
020 x Game Character Jumps - Big/Double Jump/Short/Windup
024 x Laughing Voice Sounds - Happy/Explosive/Long Evil/Boisterous/Sensible
034 x pain vocals - Wounded/Painful/Ouch/Drying/Last Breath
145 x Stock Dialogue Lines Like - Moving Into Position/Our Allies Base Is Under Attack/You Yin
483 x Knight Character Voice-Over Audio Files In Total
All In 24-Bit/96k (.WAVs) File Format
Compatible With All DAWs
100% Royalty-Free
Perfect For Fantasy Games/Film/Movie Trailers