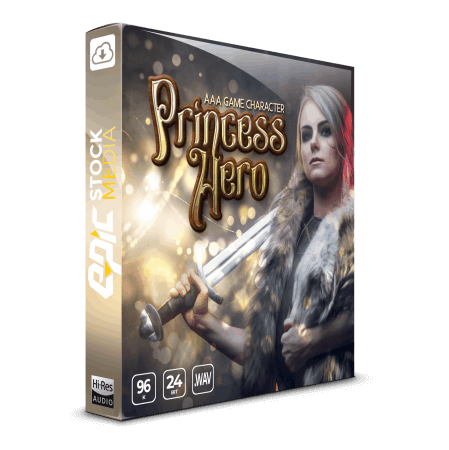 'AAA Game Character Princess Hero' by Epic Stock Media provides you with more than 280 immersive, game-ready voice-over sound files, vocalizations, battle cries, custom character-specific dialogue lines, stock non-player character dialogue lines, and everything needed to create compelling Cinematic scenes, character, and outstanding gameplay audio experiences.
Your royal majesty is here! Treat yourself with a heroic and esteemed female voice for your next game audio production with 'AAA Game Character Princess Hero', a fiery young warrior seeking justice for her kingdom! It's a valuable collection of versatile female voice over sound files created for medieval games and trailers. This voice-over sound library features a female protagonist game character inspired by games like Skyrim and World of Warcraft.
The Princess Hero's voice profile is smooth, sassy with a proper and punctuating vocal performance. She is perfect for a hero, queen, wealthy townspeople, warrior princess, NPC or any high born game characters needed. Her voice is ready for your game as is and is provided in clean audio format in case you want to further process with vocals effects.
'AAA Game Character Princess Hero' voiceover sound effects is not only packed with high-quality voice recordings but includes thought out, cohesive scripted dialogue and vocalizations to help you build dynamic Sci-Fi stories, game trailers, in-game characters, dramatic moments and so much more.
Product Specifications:
Format: (.WAVs)
008 x Battle Cries
015 x Breathing
009 x Coughing
006 x Crying
147 x Immersive Character Specific Dialogue Lines
008 x Fight Vocalizations
015 x Jumping Vocalizations
010 x Laughing
009 x Pain Vocals
061 x Stock Dialogue Lines
288 x Female Voice-Over Audio Files In Total
All In 24-Bit/96k (.WAVs) File Format
Compatible With All DAWs
100% Royalty-Free
Perfect For Protagonist Characters/Medieval/Fantasy Games/Film And Movie Trailers Voices