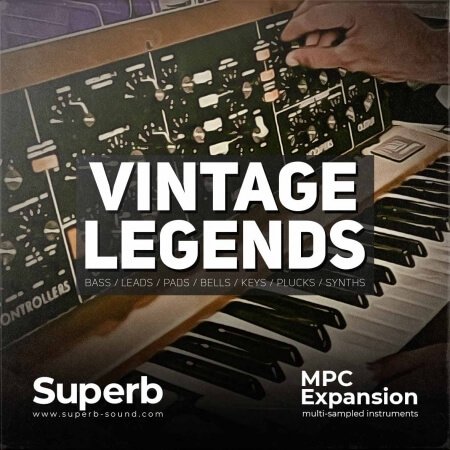 Feel that warm and vintage analog sound in standalone mode. Straight up from your MPC Live, MPC X of Akai Force.
This expansion pack comes with 75 fat and vintage sounding multi-sampled key-group instruments.
What exactly is "Vintage Legends"?
It's an expansion that comes with 75 fat and analog sounding multi-sampled key-group instruments. As well as all the other products, we wanted "Vintage Legends" to provide you with sounds that have been thoroughly scalped and processed to sound premium, in other words, bring your production onto another level. This expansion will bring you that analog and classic well-known vintage sound whether you are in standalone or controller mode. Additionally, we added LFO modulation and Insert FX to the key-group programs that provide you with an amazing sound and as a result you can tweak them according to your taste and interest. Most importantly, we have optimized the "Vintage Legends" expansion for, in short, a better usage in standalone mode.
Looking for superior vintage instruments that stand out in your production? Then this is the product you've been searching for!
Compatibility:
Standalone mode: MPC Live, MPC Live MKII, MPC X, MPC One, MPC Key 61 and Force.
Controller mode: MPC 2 and MPC Beats Software (Windows and Mac OSX), Mpc Touch, Mpc Studio, and Mpc Renaissance.
Included Content:
20 Bass's | 5 Bells | 5 Keys | 15 Leads | 10 Pads | 15 Plucks | 15 Synths
452 Mb Xpm Installation file, 616 MB uncompressed, 852 samples in total plus installation instructions PDF file.