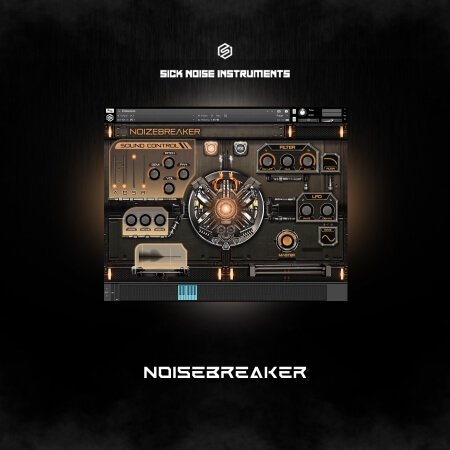 NoizeBreaker new Kontakt Library by Sick Noise Instruments.Futuristic Sci-Fi SFX library inspired by robots, transformers, aliens…
In this library you will find high quality samples ready for your production. It is useful for trailers, games, animations as well
as for various genres of electronic music that have futuristic and scifi elements like psytrance,hightech psytrance,techno,dubstep…
Inside NoizeBreaker you can find Weapons,Glitches,Robotic SFX,Signals.Robotic Footsteps,Drones,Impacts,Signals,Shut-downs and more.
Its possible to use wave samples from NoizeBreaker as drag and drop in your DAW.
NoizeBreaker sounds:
Downers – 12
Drones -12
Glitches – 12
Impacts – 36
Robotic Footsteps -17
Shut-Downs -24
Signals – 16
Robotic SFX -34
Transform SFX – 24
Weapons – 24
IMPORTANT: This is Kontakt Library for FULL version of Kontakt. This library is not for Kontakt Player.NOIZEBREAKER will work in 5.8.1 version of Kontakt and newer!
Once you buy NOIZEBREAKER you will be able to download all updates for FREE .Our plan to update it with sounds time to time with new cinematic sounds.
NOIZEBREAKER MAIN CONTROLS:Sound Control:
>Pitch>Semi
>Pan
>Volume
ADSR Envelope:
>Attack>Decay
>Sustain
>Release
Filter:
>Cutoff>Resonance
>Gain
LFO:
>Rate>Depth
>Waveforms(Sine, Triangle, Pulse, Ramp down, Ramp Up, Random)
Unison:
>Voices>Detune
>Spread
EFFECTS PANEL – Protogon has 5 effects:Reverb:
>Pre Delay>Size
>Colour
>Dump
>Stereo
Delay:
>Time>Dump
>Pan
>Feedback
Flanger:
>Depth>Speed
>Phase
>Feedback
Phaser:
>Depth>Speed
>Phase
>Feedback
Distortion:
>Volume>Tone
>Drive
Key Features:
- More then 200 high quality samples
- 5 effects – reverb,delay,phaser,flanger,distortion
- Works at Mac and Pc
- Usefull for tralers,games,any kind of electronic music
- Drag and drop samples in to your DAW
- Free download future updates (Expansion coming soon )
- Full Kontakt (version 5.8.1 or higher)