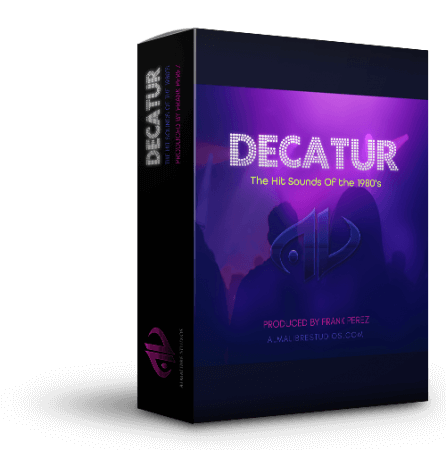 What Is Decatur?
Decatur is a sampled based Kontakt library highlighting the keyboard and synth sounds used by some of the most influential artists throughout the 1980's. These classic sounds which were featured in countless radio hits dominated the airwaves for decades and have without a doubt, become a staple of musical nostalgia over the years. All of these sounds are now available, for the first time, in one library!
8 Category Folders
Arps
This is a collection of famous arpeggiated sounds heard in some of the classic hits.
Synth Bass
Samples from legendary synths known for their fat bass sound such as the MiniMoog, the Prophet V, Yamaha DX7 and others.
Synth Brass
Analog brass from the Oberheim series, the Prophet, Roland Jupiter series and other FM based synthas well as FM Brass sounds.
Keys
This library includes samples that would not necessarily fit into the Leads category, the Piano category or the Pads category. In some cases, the samples are a combination of all of the above.
Synth Leads
The leads were sampled from vintage machines as well as some of the best virtual synths available today.
Organ
Here you can find mostly Hammond Organ B‐3 patches and a couple of vintage organ patches provided by the Vox Continental organ.
Pads
Legendary pad sounds of synthesizer behemoths like the Oberheim OB‐8, Roland's Jupiter 8 and Sequential Circuits Prophet among others.
Pianos
This section focuses mainly on DX Electric pianos similar to those from the famous Yamaha DX7 and Roland D-50, as well as a Fender Rhodes Electric piano and a few layered acoustic pianos.
Specifications
∙ 11.8 GB Sound Library (6.5 Gb zip file)
∙ 8 Instrument Folders
∙ Over 220 Instruments
∙ Over 7,000 Samples
∙ Wav files directory can be used with any sampler
∙ For Windows 7 and above/ Mac OSX and above