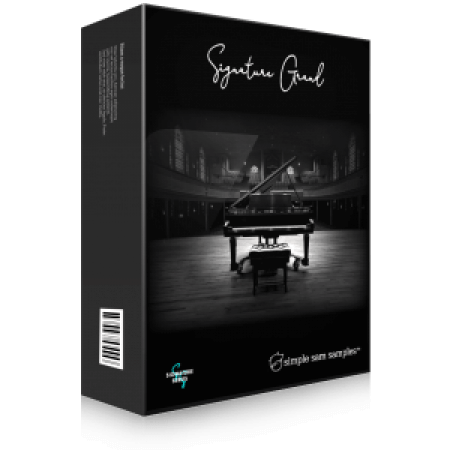 Signature Grand is a Model D 9-foot Concert Grand recorded in a beautiful hall/scoring stage. The instrument naturally excels in film and classical applications, but the user is able to craft the sound to be suitable to nearly any style of playing.
What makes our piano different? Our instrument is bursting with three-dimensional realism due to a unique sampling and scripting process that captures the beautiful early reflections of the recording space. By blending two microphone perspectives, the user is able to find the perfect balance between close and room microphones, as well as controlling the overall ambiance of the space through our "releases" controls.
Signature Grand is a deeply sampled instrument containing over 3000 samples in 24-bit, 10 dynamic levels per note, two microphone perspectives, and multi-velocity mechanical noises. Advanced features include repedaling, half-pedaling and various sympathetic resonances. Over 60 presets designed by Emmy Award-winning composer, Garth Neustadter are included covering film, classical, jazz, and pop styles. Designed for the full version of Kontakt 5 or 6 (Download Only). The instrument will not work with the free version of Kontakt.
Product Description and System Requirements
More than 2500 samples in 24 Bit
All 88 keys individually sampled in 10 dynamic levels
Two microphone perspectives (Close and Room)
Multi-velocity adjustable mechanical noises
Authentically modeled una corda (soft pedal) samples
Sympathetic String Resonance with real overtones
True repedaling and half-pedaling
User controllable microphone/recording noise and player noises
Adjustable releases to control early reflections and ambiance
Over 60 presets designed by Emmy Award-winning composer, Garth Neustadter
Recommended Hardware
2.0 GHz Intel Core Duo CPU
4 GB RAM
10 GB free hard drive space
Hard drive speed of at least 7200 RPM; SSD highly recommended
minimum audio buffer size of 196 or higher recommended
Kontakt Requirements
Kontakt Version 5.6 + or 6. The free version of Kontakt is not supported, but will run for 15-30 minutes in demo mode.
Ability to host 350 voices within Kontakt