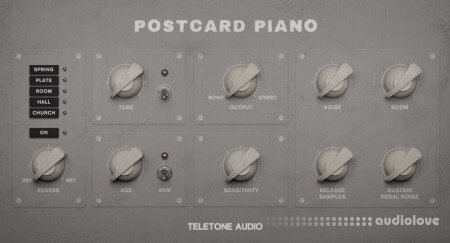 SlowAndShifted
Postcard Piano creates a mood. Each sample of this piano has been pitch shifted down a minor third and time-stretched to create a sound that is both nostalgic and modern.
Use your ears, not your eyes.
From dialing in the intimate sound of the studio room mics to adding in some tube saturation, we left out any numbers to encourage you to truly tune in.
Unique to Postcard Piano is the AGE button. This knob controls a series of effects that takes the piano through the years and into a beautiful warbled sound. Make sure to watch the walkthrough to hear this in effect.
You can also dial in the sound of the studio with the ROOM mic position knob. This allows for you to add just a bit of dimension and depth to the sound of the piano.
Go in-depth with Jeremy Larson - Teletone Audio's founder - in this walkthrough of the Postcard Piano to learn more about it's creation, thoughtful features, and how to actually use the
Designed Patches
We created a number of inspiring bonus sounds based on the core Postcard Piano.
These patches range from a spaced out ambient piano, upright bass, to a percussive staccato sound. These designed patches will inspire your next cue or tune.
Below are the requirements to use this instrument…
Full version of Kontakt 5.8 or later required