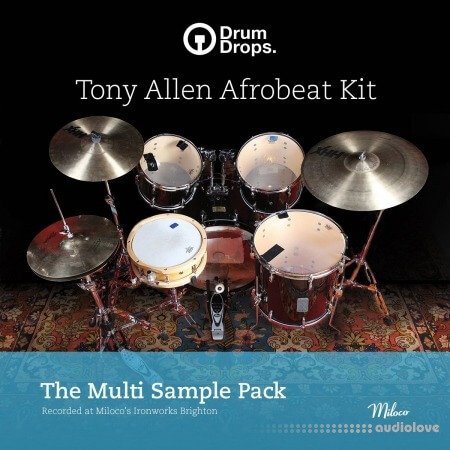 "I've always thought of my drums as an orchestra. I like to create a melody with my drums when I play. I like to make them sing."
Tony Allen needs no introduction. He revolutionised the musical landscape of an entire continent influencing the course of Western pop music. Born in Lagos in 1940 Tony never took up traditional African percussion. Listening to the recordings of the great American bebop drummers Art Blakey and Max Roach, he invented a technique that he gradually refined by honing his command of the cymbals, in particular the hi-hat, little used by African drummers - and the tom-toms.
The kit used was Tony's Pearl Masters Premium Studio kit. This is Tony's main kit that he has been using for years. It comes with a 22" kick drum, 12" and 13" rack toms and a 16" floor tom.
We used two snare drums, a Pearl Masters Premium (14" x 7") and a Tony Allen custom snare (14" x 5"). The cymbals we user were an HHX stage 16" crash, an HHX 20" stage ride and some Zildjian New Beat 14" hi-hats. This all makes up Tony's main recording kit. Of course it wont sound much like Tony's kit without him playing it.
Pearl is a Japanese company that began in 1946 with the focus on drum kits beginning in 1950. Today Pearl's Taiwanese factories deliver all the kits worldwide. Their construction technique is known as Superior Shell Technology. Each ply is placed into a cylinder, and pressure is applied from both sides.While in the press, the shell is heated to bring the glue to a boil, which forces it through the wood grain and fuses the shells very tightly. The individual plies are scarf jointed, and all the seams are offset, resulting in a "seamless" drum which creates a drum shell of incredible strength. This kit is a Pearl Masters Premium made of Birch.
The Multi Sample pack
provides up to 28 velocity steps of each articulation. Each sample included in this pack is a mix of all of the kit mics. This pack can be used in any drum machine or sampler that reads 24 bit WAV files, and we've included patches to the some of the most common software. We also include 16 bit samples for old school samplers. We have included three round robin samples of each velocity for added realism. This pack is a great choice for those who want multiple velocity articulations. This pack comes with 2003 samples.
----------------------------
The Multi-Sample Pack
The Multi-Sample Pack is a sampler pack that can be loaded into any DAW, sampler or drum machine that reads WAV files. The Multi Sample pack contains 2013 stereo samples. There are forty different articulations, which have been recorded in up to twenty-eight velocity steps. The patches for EXS24, Kontakt, Battery, TX16Wx and SFZ also contain three sets of round robin samples.
There are various templates for each of the samplers that cater for most of the more popular drum software packages on the market. The samples themselves are 44.1kHz 24 bit WAV les.
Pack Contents
Included with your Multi Sample Pack are different patches for Kontakt 5, Battery 3, TX16Wx Sampler, EXS24, Ableton Live Pack for Drum Rack and SFZ patches for SFZ compliant samplers. The Multi Sample Pack includes multi-out patches for the EXS24 for use in Logic X, as well as our original stereo-out versions. In turn for each of the samplers, there are four different patches, one for each snare recorded with the kit.
We also include MIDI loop files that work with our Default MIDI map. There are loops for various musical styles, in various tempos and time signatures.
You will also find drum machine patches for Maschine, Geist, Impact and iDrum, plus a couple of Reason refills for the NN-XT sampler, Kong and the Redrum drum machine included with the pack. All of the patches can be used in any DAW that supports these samplers as well as the standalone versions of the software.
There is a folder called Samples contained in the pack. This folder contains the samples that have been used to create the patches.
All of the samples in this folder are used by the Kontakt, Battery, SFZ and EXS24 patches. Drum Rack, TX16Wxand the NN-XT patches only use the first set of round robin samples. The drum machine patches only use sixteen of the key articulations due to the number of pads except for Redrum which only allows a maximum of 10 samples to be used.
You can use the WAV files for drum replacement, by either importing directly in your DAW or a drum replacement plug-in. (or you can buy our drum replacement pack which has patches for Slate Trigger, Drumagog 4 and Drumagog 5 included). You can also easily create your own patches for any pieces of software that we haven't included with this pack.3.1.2 Sampler Patches (for Kontakt, Battery, Drum Rack, EXS & SFZ)