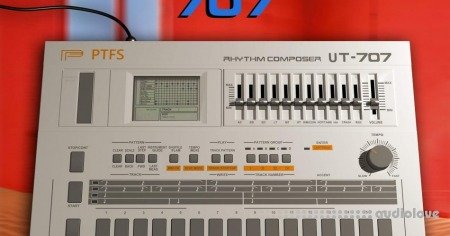 We are proud to present the first of our new, advanced drum machine series of sample libraries for Kontakt!
*We just added a free update to this library including new 707 samples recorded to a Revox B77 tape machine with the following versions;
*Bae1073 preamp+Bae B15 EQ To Revox Tape
*Straight into the Revox tape clean
*Straight into the Revox tape driven
*Straight into the Revox tape SLAMMED!
All selectable from our custom GUI!
A vintage 707 drum machine recorded through various high-quality preamps, eq's, and various analog gear!
A new interface designed from the ground up for Kontakt, where you can choose and combine between preamps, compressors, and other awesome gear!
We recorded this drum machine through a Bae 1073, Chandler Germanium preamp, a tube Redd 47 clone preamp, AMS Neve 1073 and Neve EQ, API 512c, Tegeler Magnetismus Tape Simulator and compressor, a vintage Dbx165a for awesome compression, a Roland SBF-325 Flanger, and a Shure Se-30 for amazing crunch!
All selectable from our custom GUI!
We also added a famous Lexicon Pcm 70 "Tiled Room" reverb as a send so you can send individual samples through a hardware reverb all within Kontakt!
24bit/48khz
Recorded through various analog gear, all selectable from the custom GUI!
Wave files are included if you don't use Kontakt!
5 Round robins for each drum! Scripted velocity from Kontakt!
Custom sound presets to get you started!
Easy to use, effective Kontakt GUI
Very useful for beefing up your real drums too!
We are proud to bring you sounds you can't find anywhere else!