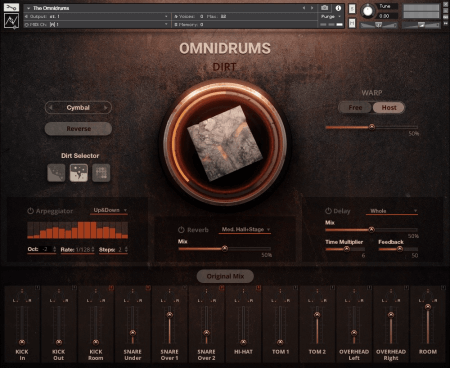 OMNIDRUMS is a totally new drum experience!
Recorded with an insane level of details (up to 12 dynamics and 8 round robins) it offers total control over the mixing (12 channels) bringing the recording studio experience right on your computer. It features drums techniques never sampled so far (stacks and sounds of each kit element hit in multiple positions) and gives you tons of color variation for each element for an absolute realistic and modern drumming experience. Likely one of the most complete, omni-comprehensive drum VST on the market, Omnidrums is much more than just another great drums Instrument for Kontakt. It's 2 instruments in 1!
Main Sounds:
- 21 different Kick sounds: 18 - 20 - 24 with different tunings and playing techniques
- 120+ snare sounds and techniques: one shots, drag, rim, rim-drag, rolls, press rolls, harmonics, stacks, tunings and special - effects.
- 120+ snare roll techniques, from standard to unconventional: different shapes, dynamics and length.
- 140+ tom sounds and techniques: one shots, rim shots, drag, rim-drag, rolls, harmonics, tunings and special effects.
- 200+ cymbal sounds and techniques (hi-hat, ride, crashes) including one shots, positions (cymbals played in multiple positions to get different colors), rolls, effects, stacks, prototypes and odd cymbals etc.
- 230+ time stretchable loops and rhythmic patterns
- 43 time stretchable Jazz fills
- Lots of creative textures and objects
Built-In Effects and Controls
3 Dirt effects: 2 (Quake and Debris) analog-processed and 1 IR.
Built-in top class Reverb and Delay algorithms
Reverse Function on each sample
Warp: two modes (FREE, HOST)
User Auto-mapping system
12-Channels Routing mode
Panning on each channel strip
System Requirements
Requires full version of KONTAKT 5.6.8+
Approx. 20 GB free harddrive space
8 GB of RAM or more is recommended