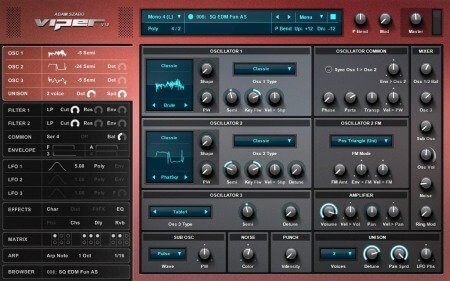 Viper aims to deliver the sound characteristics of legendary hardware synthesizers in a virtual format. It comes with multitude of features like: multiple Oscillator types, Sync, Frequency Modulation, Ring Modulation, Unison up to 8 voices, Filter Saturation, Filter Routings, Modulation Matrix, high quality Effects, a powerful Arpeggiator, and much more!
A lot of time and research has been invested to make Viper capable of delivering a wide array of sounds, everything from lush pads, huge basses, and powerful leads, typically found in analog synthesizers. This was achieved with careful coding, experimenting, analyzing hardware synths, and using the ear to fine tune its parameters.
The audio engine is written in optimized code to use as little CPU consumption as possible, while maintaining a high quality sound engine, finding a good balance between the two. Viper also has a smoothing algorithm for its controls to remove the 'steppyness' associated with digital synthesizers.
Viper is available as a 32 and native 64 Bit VST instrument for Windows.
Clean Interface
Viper uses a clean and logically laid out GUI with multiple pages containing different sections, that are divided up by dynamic tabs. The tabs display vital information about each page, which is a convenient way to get an overview of the entire patch.
The Resizeable GUI makes it easy to use Viper on small laptop screens or even large 4K monitors, while the built in Browser helps in selecting sounds from the many included factory presets!
Powerful Oscillators
Viper has a set of versatile oscillators with multiple modes that let you create some amazing sounds!
Classic: With the Classic oscillators, it is possible to blend between a user waveform, a sawtooth, and a pulse with PWM.
Multisaw: The Multisaw is used to generate a total of 9 sawtooth waveforms in a single oscillator for some huge sounds!
Wavetable: The Wavetable oscillator can cycle through a table of waveforms. Load your own wavetables from Serum or any other wavetable synth!
Smooth Filters
Viper is equipped with two Zero Delay Feedback filters which include Low Pass, High Pass, Band Pass and Band Stop filter types either in 2 or 4 poles.
Use the Filter Routing to create serial or parallel filter paths, and further shape the sound with different Filter Saturation modes.
Extensive Modulation
21 modulation sources, and over 80 desinations makes it easy to create complex, dynamic, moving sounds! With the help of the Modulation Matrix, link almost any parameter to various sources, or use one of the 4 Envelopes to create evoling pads or soundscapes and effects.
There are also 3 LFOs in Viper, each having a different assortment of parameter destinations it can modulate directly. Two of the LFOs can even be turned into simple envelopes!
High Quality Effects
The wide variety of high quality stereo effect in Viper help to enhance the sound in many different ways!
Effects include several Distortion models, Ring Modulator, Frequency Shifter, Vowel Filter, Comb Filter, Phaser, Chorus, modulated Delay lines or Reverb with Shimmer effect for a massive sound! Use the built in Equalizer to finalize the sound!
Flexible Arpeggiator
Create amazing rythms or arpeggios with the built in Arpeggiator and generate melodic sequences from incoming MIDI notes. Vipers Arpeggiator can play synced, or completely free sequences with the included patterns or ones created by you!
The Arp can even send out notes to your favourite synthesizers with it's own MIDI Out function!
GUI Skins
Viper comes with a variety of skins to change the mood and feel of the synthesizer. Choose from one of the included skins or easily create your own!