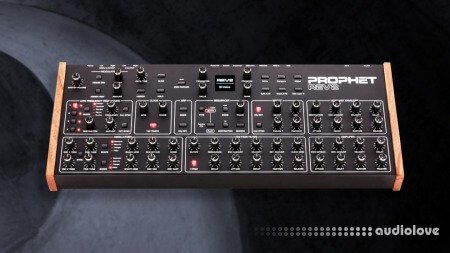 With over 40 pads and motion sounds, this library offers a wide variety of atmospheric pads, textures, and drones. The selection ranges from subtle background pads and vintage strings to complex modulated soundscapes that can serve as the foundation for complete arrangements on their own.
Additionally, there are over thirty bass and lead sounds. The spectrum covers typical melodic techno leads, aggressive techno arpeggios, sub-basses, acid lines, and more. Another highlight are the 27 combo sounds, which often combine arpeggios, leads, and pads.
Furthermore, producers of dub techno will find a nice collection of dub chords and dub pads that are perfectly tailored to this genre. Finally, the pack is complemented by eight percussion and FX sounds, as well as a small collection of analog brass sounds.
Use of aftertouch and mod-wheel
To ensure that the presets can be played expressively, controllers such as Aftertouch, Modwheel, and Velocity are integral parts of each preset. From subtle tonal changes to radical morphings, each assignment has been optimized for the specific preset, allowing for a wide range of expressive possibilities.
Discoveries contains a total of 104 programs*, organized into 77 patches for the Prophet Rev 2.
Pads & Strings: 24
Motions & Evolution: 18
Leads: 16
Basses: 15
Brass: 3
Arpeggiator: 9
Dub Chords and Pads: 11
FX, Drones & Percussion: 8
Dual-Combos: 27
*This sound pack consists of a total of 104 completely new programs. Out of these, 50 are individual presets that utilize a single layer. The remaining 54 programs are designed as dual layer sounds, resulting in a collection of 27 combo sounds. It's worth noting that these combo sounds are not duplicates of existing patches, but rather each layer has been programmed from scratch to create unique and distinct sounds.